School visit
In the reconstructed Iron Age village of Odin Odense, we provide inclusive activities and vibrant teaching in ancient Denmark.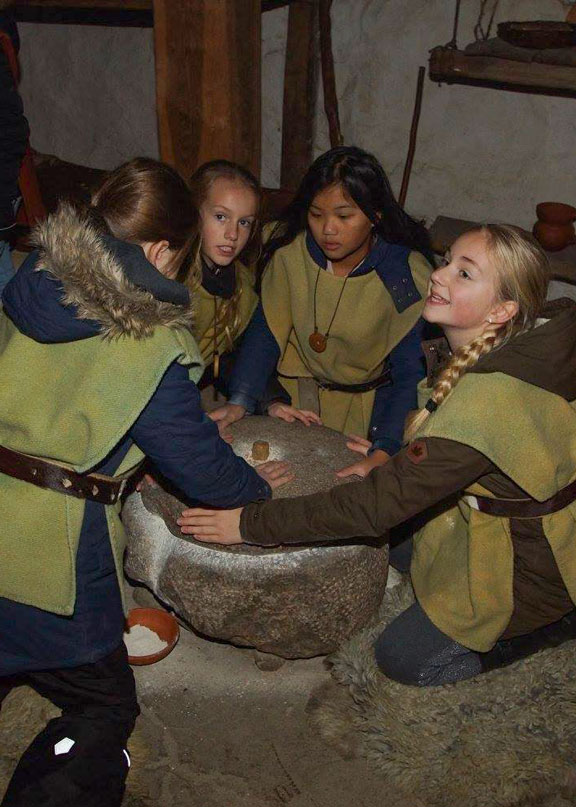 The importance of the past and its impact on the future
One of the cornerstones of the modern Nordic identity is laid around the time of the Iron Age and Vikings. We aim to strengthen students' awareness that their life is the sum of many people's love and hard work- that human beings are history's creations as well as the creators of history.
Learning objectives
By working with the story from different angles, we want to enable and complement the students' imagination and through challenge and support reflection and reasoning.The teaching method is based on dialogue and is a combination of various teaching techniques, such as: group work, storytelling, handling authentic objects and practical activities in which the different learning styles are catered for.
Odins Odense offers the following arrangements for schools:
Daily life in the Iron Age (4½ hours)
A day with the druidess – medicinal plants, faith and sacrifice in the Iron Age (4½ hours)
Camping (2-3 days)
Guided tours for schools (1½ hours)
Class arrangement – a visit organized for the entire class and all the student's parents and siblings, this includes a tour after which everyone spends an enjoyable evening sharing a meal together. You can bring your own food or you can pay extra to try an authentic Iron age pit roast (3½ hours)
Vi bruger cookies for at give dig den bedst mulige oplevelse på vores hjemmeside. Hvis du fortsat benytter dig af vores hjemmeside, formoder vi at du er tilfreds med dette.
Ok - Skjul dette